Berisha with the group: DP supports the lecturers, not to bow to Rama's cynical attitude
Politiko
2022-10-05 14:25:04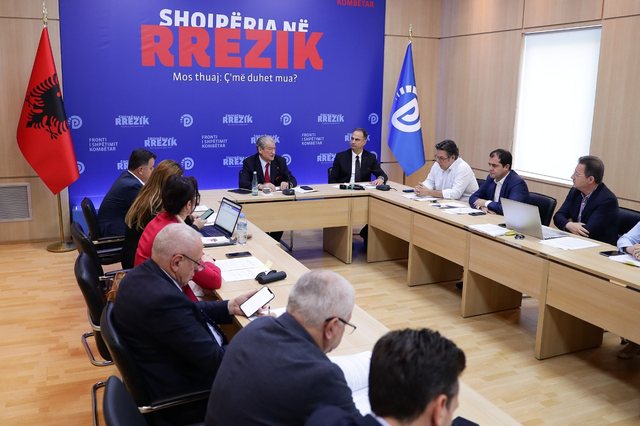 Today, Sali Berisha gathered the PD parliamentary group, where he expressed his support for the teachers' protest. Throwing accusations at the government, he assured the lecturers that DP supports them in every action.
He appealed that no one bow down to this arrogant attitude, referring to Prime Minister Edi Rama. Berisha said that the struggle of pedagogues must continue.
"I want to express DP's full support for the teachers who are protesting. Today they organized a powerful protest in front of the Polytechnic University for their most legitimate demands.
I guarantee that DP stands in support of every request that they make today to an arrogant, fraudulent and thieving government. The demands of lecturers, employees and students are real cries to save university education...
Therefore, on this occasion, I call on every lecturer, every assistant, every laboratory assistant, every employee at the university, every student and every family member, not to bow down to this arrogant, cynical and deceptive attitude of a man, who is de facto leading the universities towards destruction.
I call on the citizens to support this protest with all their potential as a condition to preserve the universities as the homes where Albanian intellectuals are formed.
Therefore, congratulating the union of university employees, congratulating everyone who participated in that massive protest, condemning the cynical statements of Edi Rama, I call on them to continue this battle" , declared Berisha.