The sea goes to The Hague / Greece looks forward to the new President: We are waiting for Meta's departure
Politiko
2022-05-27 11:30:07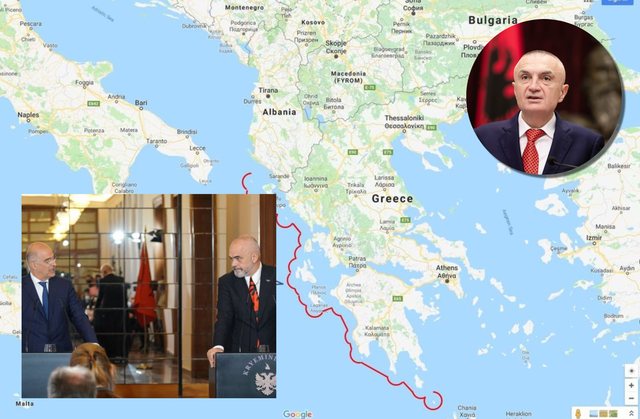 Greek Foreign Minister Niko Dendias was on an official visit to Tirana four days ago where he met with his counterpart in Albania, Olta Xhaçka.
At a joint conference, Xhacka's statement on the issue of the Cham community irritated the Greek Foreign Minister, who responded to Xhacka with threats on Albania's integration into the European Union.
"We hope that the willingness to find a mutually agreed solution to an issue as difficult as maritime space can serve as a constructive approach by which our friendly countries can start discussions on other issues, no matter how difficult we have." inherited from the history and tragic period of the Second World War, such as the need for the abrogation of the law of war or the issues of property rights or human rights of the Cham community " , said Xhaçka.
While the Greek counterpart threatened with a possible 'veto' on the opening of negotiations for membership in the European bloc.
"Të mos krijojmë çështje që nuk janë ekzistuese pasi do na çojë në pasoja të nivelit të shumëfishta ku Greqia do të vendosë çështje të tjera që kanë të bëjnë me intenerarin tuaj në Evropë", tha Dendias.
Deklarata e ministrin të Jashtëm nga ministrja e Ramës u kalua me nënqeshje dhe shtrëngim duarsh duke 'pohuar' se çamët mund të bëhen kurban i integrimit vetëm për të përmbushur egon e grekëve.
Megjithatë, deklarata e Dendias nga Tirana për çamët, pasohet me një intervistë që ministri grek ka dhënë për Sky Radio ku i referohet veç çështjes çame edhe asaj për detin.
Teksa flet për çështjen e detit për të cilin dy ministrat ranë dakord t'i drejtohen Gjykatës në Hagë, Dendias shprehet se pengesa që nuk e lejon Greqinë të marrë detin, është presidenti Ilri Meta.
Referuar intervistat për SKAI Radio, Dendias shprehet se pas zgjedhjes së Presidentit të ri, Greqia mund ta realizojë lehtësisht qëllimin e vet, pasi nga Rama nuk ka asnjë kundërshtim. Pra, Greqia pret që Rama 'të heqë qafe' Metën dhe pastaj të marrë fitojë detin.
"Shqipëria ka bërë një zgjedhje të rëndësishme të paktën në kohën e kryeministrit Rama. Cila është ajo zgjedhje? Është Bashkimi Evropian, ligji evropian, acquis evropian dhe, rrjedhimisht, partneriteti me Greqinë. Kjo është politika e saj e vendosur.
Dhe duhet parë linjat e gjera të politikave dhe pozicionet e qëndrueshme në politikat e dikujt. Dhe Shqipëria është konsistente me ta. Ajo ra dakord me ne që t'ia referojmë çështjen tonë Gjykatës Ndërkombëtare të Drejtësisë në Hagë sipas rregullave të së drejtës ndërkombëtare.
Kjo nuk ka ndodhur ende pasi Presidenti nuk i ka dhënë autorizimin përkatës kryeministrit. Me sa duket, Shqipëria do të zgjedhë një President të ri brenda dy-tre muajve të ardhshëm. Pra, e gjithë kjo do të jetë e realizueshme që atëherë. Sinqerisht, kjo është ajo që mbaj nga qëndrimi shqiptar, si dhe nga linja e përgjithshme e politikës së Shqipërisë në lidhje me vendimet e Bashkimit Evropian, si për çështjen e Qipros, ashtu edhe për Turqinë", ka thënë Dendias për SKAI Radio.
Çfarë ka ndodhur me çështjen e detit?
Mosmarrëveshjet mes palës greke dhe asaj shqiptare filluan pas negociatave negociatat për një marrëveshje lidhur me ndarjen e hapësirave detare në Detin Jon, në vitin 2018, që u pezulluan në verën e 2019-ës.
Në vitin 2009 Gjykata Kushtetuese hodhi poshtë Marrëveshjen e Detit mes Shqipërisë dhe Greqisë. Konventa e të Drejtës së Detit, e miratuar në Montego Bay në vitin 1982, e ratifikuar nga të dyja vendet fqinje, u jep vendeve që e kanë ratifikuar të drejtën të zgjerojnë ujërat e tyre territoriale deri në 12 milje. Por vetëm, nëse këtë e lejojnë rrethanat gjeografike.
Shqipëria dhe Greqia ndajnë në Detin Jon tri hapësira: Det Territorial, Shelf Kontinental dhe Zona Ekonomike Ekskluzive. Këto dy të fundit kanë të bëjnë me shfrytëzimin e hapësirës dhe pasurive nëndetare, si kërkimet për gaz, naftë etj. Për të tria këto hapësira dy vendet fqinje kanë interesa strategjike.
Rama legjitimoi zgjerimin e Greqisë me 12 milje det
Në vitin 2020, kryeministri Rama e quajti të drejtë legjitime zgjerimin e Greqisë me 12 milje det. Asokohe, Rama e konsideroi të panevojshme adresimin e një kërkese nga pala greke tek Shqipëria, me argumentin se të drejtën e zgjerimit ia jepte Konventa e vitin 1982
"This is the greatest folly and meanness imaginable. Because the statement has nothing to do with the agreement with Albania. Stupidity because the postponement declared by the Prime Minister 6 miles is not in the waters of Albania. "But the exercise of a right in the sea convention in 1982. Albania exercised it without asking Greece in 1990" , declared Rama at that time.