The attack in Vlora, the police react: 3 Kalashnikovs were found in the burned vehicle
Politiko
2022-08-18 10:56:41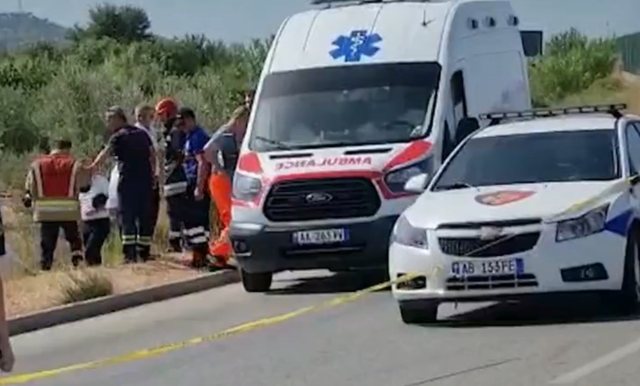 The State Police has issued an official statement regarding the double assassination that happened a few minutes ago at the Panaja crossing in Vlora.
According to the police, it is suspected that two people were killed as a result of the shooting, whose identity is still unknown. The victims are inside a "Benz" type vehicle which ended up in the canal after the shooting.
Një mjet tip "BMW" është gjetur i djegur në fshatin Çerven në Levan-Tepelenë, e cila dyshohet se i përket autorëve. Brenda mjetit janë gjetur 3 armë zjarri kallashnikov.
Deklarata e policisë:
Sot, rreth orës 09:50, në dalje të fshatit Panaja, në aksin rrugor Fier-Vlorë, në rrethana ende të pa qarta, dyshohet se janë vrarë me armë zjarri, dy shtetas ende të paidentifikuar, të cilët ndodhen brenda një automjeti tip "Benz".
Gjatë krehjes së zonës, në fshatin Çerven, në aksin rrugor Levan-Tepelenë, nga shërbimet e Policisë është konstatuar duke u djegur një automjet i braktisur tip "BMW", pa targa, i cili paraprakisht dyshohet se mund të jetë i autorit/ve të ngjarjes. Nga kqyrja paraprake e automjetit dallohen në brendësi të tij, 3 armë zjarri automatike.
The investigative group under the direction of the Prosecutor's Office of the Judicial District of Vlorë is at the scene of the incident, where the work continues to clarify and fully document the circumstances of the incident, the identification and capture of the author/s, as well as the identification of the two citizens found without signs of life.
The Police Services of DVP Vlorë, Delta Force of FNSH, in cooperation with DVP Fier, have set up checkpoints and are combing the area to make it possible to catch the perpetrators.