Drug laboratory in Fier, SPAK: 430 kg of cocaine worth €40 million was found in the manure, it came from Colombia
Politiko
2022-11-25 11:57:31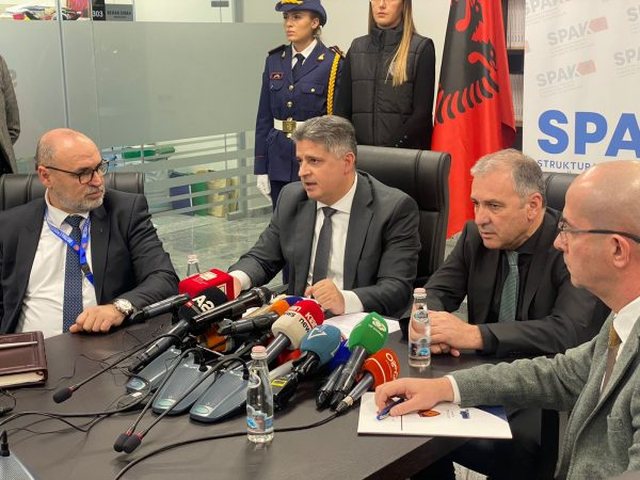 SPAK and the prosecution have given details of the operation after the discovery of the drug laboratory in Frakull, Fier, for which the former mayor of SP in Fier, Viktor Červanaku, and his son were put in handcuffs.
According to the results of the operation, the cargo of organic manure, where an amount of 430 kg of the narcotic cocaine was hidden, was loaded into a container in Colombia in May of this year and arrived at the port of Piraeus in Greece.
From there, the shipment arrived in Montenegro after three days and in September it arrived in Albania.
According to SPAK and the prosecution, the load of organic fertilizer was ordered by an Albanian citizen with a residential address in Tirana. So far, 10 people have been put in handcuffs, among them the brother of the SP official, Zenel Červanaku.
During the operation, the following were seized: 15,910 Euros; 3 Kalashnikov automatic firearms; 3 pistol-type firearms; 108 pieces of combat cartridges of different calibers; 18 mobile phone sets; 5 vehicles; 2 laptops; 2 shotguns, 20 pallets with about 24 TONS of "artificial fertilizer", within which there are reasonable suspicions based on evidence that it contains an amount of about 430 kg of cocaine-type narcotics, which, referring to the sale in the retail market, its value captures the figure of around 40 million euros.
"Nga verifikimet e kryera rreth shtetasit shqiptar, rezultoi se në fillim të vitit 2022, kishte regjistruar një biznes në emër të tij me objekt të aktivitetit, ndër të tjerave edhe "Import-eksport dhe tregtim me shumicë e pakicë të plehrave kimike dhe mallrave të ndryshme, me adresë në Tiranë.
Më konkretisht sasia me "pleh-organik", në muajin maj 2022 pasi ngarkohet në kontejner, nëpërmjet një anije transporti është nisur për në portin e Pireut/Greqi, dhe ka mbërritur në fillim të korrikut 2022, e prej andej me anije transporti pas 3 ditësh është dërguar në portin e Barit të Malit të Zi, dhe në territorin shqiptar është transportuar me kamion në muajin shtator 2022.
Pasi është zhdoganuar ngarkesa me "pleh-organik", nën koordinimin e vazhdueshëm të personave nën hetim është mundësuar zhvendosja e saj në ambiente të ndryshme në Shqipëri, dhe ditën e djeshme më datë 24 nëntor 2022, është bërë e mundur sekuestrimi i kësaj ngarkese në Farkë të Madhe Fier.
Për interesa të këtij procedimi penal rezulton se Prokuroria e Posaçme, krahas veprimeve hetimore, ka pranuar kërkesën e autoriteteve malazeze të drejtësisë, duke autorizuar kryerjen e veprimit simuluese atë të "dorëzimit të kontrolluar", me qëllim dokumentimin e aktivitetit të dyshuar kriminal, identifikimin e grupit të personave që kanë organizuar dhe financuar blerjen e ngarkesës, kanë mundësuar përzierjen, blerjen e sasisë së dyshuar të lëndës narkotike të llojit kokainë në Kolumbi, si dhe kanë mundësuar transportimin e saj deri në Shqipëri.
Me qëllim identifikimin e plotë të bashkëpunëtorëve, të cilët kanë marrë pjesë në përgatitjen e dokumentacionit rreth hapjes në Shqipëri të kompanisë që do realizonte transportimin dhe marrjen në dorëzim të "ngarkesës" brenda të cilës dyshohej se është përzier lënda narkotike e llojit kokainë, pagesat e realizuara për blerjen, transportimin dhe zhdoganimin e saj, personat që do kujdeseshin për pritjen dhe marrjen në dorëzim të ngarkesës në Shqipëri, personat që do kujdeseshin për rruajtjen, magazinimin dhe ekstraktimin e lëndës së dyshuar narkotike nga sasia me "pleh-organik", dhe kush ishin personat e specializuar që do mundësonin kryerjen e këtij procesi, janë autorizuar nga Gjykata e Posaçme gjitha veprimet mbi aplikimin e mjeteve të kërkimit të provës.
In addition, the court accepted the requests for the appointment of security measures for 11 persons under investigation and the control of 14 premises in different cities of Albania (Tirana, Lushnje, Fier).
"On the part of the structures of the General Directorate of the State Police, 10 personal security measures have been executed up to these moments, as well as all checks have been carried out according to the respective court decisions" , SPAK announced.