"No criticism of Rama", Berisha: Basha wrote 4 lines, he did not dare to mention it without permission with McGonigal
Politiko
2023-01-31 20:42:58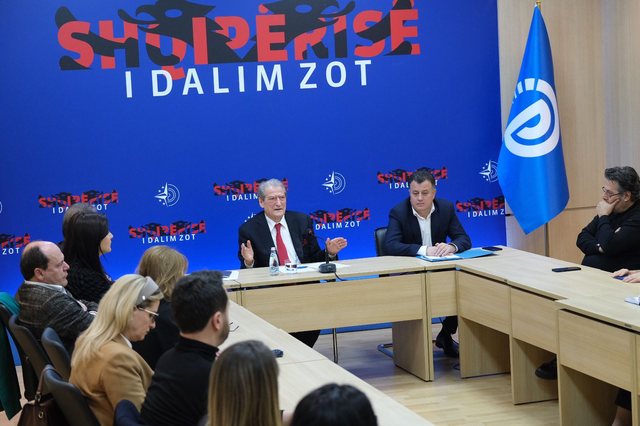 Chief Democrat Sali Berisha has criticized the attitude of the former leader of the DP, Lulzim Basha, who the day before reacted to the 'McGonigal' scandal.
Although the sensational event directly involved Prime Minister Rama, Basha did not issue any criticism towards him.
For this, Berisha said today at the meeting of the Presidency of Basha, he did not dare to mention Rama without McGonigal's permission.
Berisha : Why do I say this, I say this because the McGonigal case illuminates, helps Albanians to understand the developments around them. To understand how corruption can be used, not only to impoverish them, but also to kill hope every day in them, to make them hopeless. Imagine what a toxic effect they have had on the Albanian citizen with hundreds of paid statements like that of Mark Rossini, in support of Edi Rama, in praise of his ministers, of imaginary successes, absolutely all paid for.
Imagine what drama has been played out in this country with the destruction of justice and its transformation into a ward of the SP.
Skapi të cilin, ose për të cilin mund të jenë bërë me dhjetëra, qindra deklarata është sot institucioni më i diskredituar në Shqipëri. Askush nuk e ka diskredituar atë përveç vetes së tij. Do ju jap një shembull, vetëm nga dita e sotme. Deputeti Gazment Bardhoi shkoi dhe paditi në skap aferën. Për të dëshmuar se është një mburojë e partisë së tij, përgjigja; ishte na sill akt padinë. Prisni. Ka patur para skapit një prokurori të krimeve të rënda quhej. Kur doli çështja Nik Muzin, ajo hapi menjëherë dosje për Lulzim Bashën, e mori të pandehur për larje parash, sepse ajo ishte larje parash. Nuk tha, më sill aktpadinë, dosjen e Nik Muzin, jo. Aq sa kishte. Për skapin e partisë, pavarësisht se në të katër anët e botës ulërinjë sirenat e korrupsionit, të krimit nuk ndodh asgjë, dhe i kërkon aktpadinë. Nuk mund të fillojë hetim.
He is taking the same attitude as Edi Rama, hostile, because an Albanian there had to say to himself; come on, this page did this deed. This document of the American Court requires these, and these. Of course, the vast majority of the investigations are in Albania. What prevented SKAP from announcing today that it has started the investigation and calling in a row.
Do you know that McGonigal has met prosecutors here, private, vetting, met the court, entered and exited fully empowered. These do not exist for the party cabinet. Edi Rama, after clarifying that I meant the word friend in English and not in Albanian, closed his mouth and disappeared for 5 days. Lulzim Basha shut his mouth for 7 days, instead of saying he is the victim of a conspiracy, no he does not open his mouth and made a note yesterday, 4 lines where he did not dare to mention Edi Rama, without permission with McGonigal, did not exist for them .