Berisha: The OSCE report overturns the elections, let's prepare for protests
Politiko
2023-10-02 19:36:32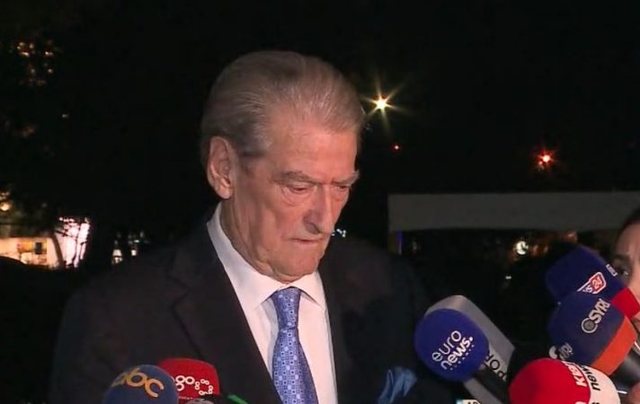 Chief Democrat Sali Berisha commented from outside the Parliament on the latest OSCE/ODIHR report on the May 14 local elections.
Berisha stated that the report concluded that illegal and unconstitutional means were used in the elections, violating the Electoral Code and the Constitution.
The chief democrat said that the report proves that the Albanian prime minister directly served the machinery of fear and pressure with his bandit threats against candidates and citizens.
"Raporti konstaton kontrollin e votës. Vota e kontrolluar është vota e skllavëruar. Vota e kontrolluar është vota e diktaturave. Vota e kontrolluar është vota e regjimeve totalitare. Ajo nuk është më votë e lirë. Vota e kontrolluar, de facto është vota pothuaj e vdekur apo në vdekje klinike.
Raporti konstaton gjithashtu se për kontrollin e votës, u përdorën mjetet më të paligjshme, më antikushtetuese, më antiligjore.
U përdorën mjete, të cilat dhunuan Kodin Zgjedhor, Kushtetutën, standardet ndërkombëtare të zgjedhjeve të lira dhe Kodin e Venecias.
Dëshmon se makinerisë së frikës dhe presionit, i priu direkt kryeministri shqiptar me kërcënimet e tij banditeske ndaj kandidatëve, ndaj qytetarëve, në rast se do votonin për kandidatët e opozitës.
It shows that the elections were controlled by the administration, that the Activist application and the red terrorists in the guise of patronage did everything to dictate the will of the Albanian citizens.
Anyone who reads this report carefully will find percentages that overturn the election. Whoever reads this report, finds that May 14 was a true electoral farce.
Therefore, my call to Albanians, to 600 thousand Albanian idealists, who rejected with disdain any form of illegal control over their will, to prepare for sustained and powerful protests, to remove this power, which is based on the report: vote turns into a crime and a crime into a vote. My call to all Albanians is: never justify a stolen vote" , declared Berisha.