"Stop the terror against the media", Berisha: Albanians will pay as much as a chicken for Rama's vandal acts
Politiko
2023-03-23 15:07:55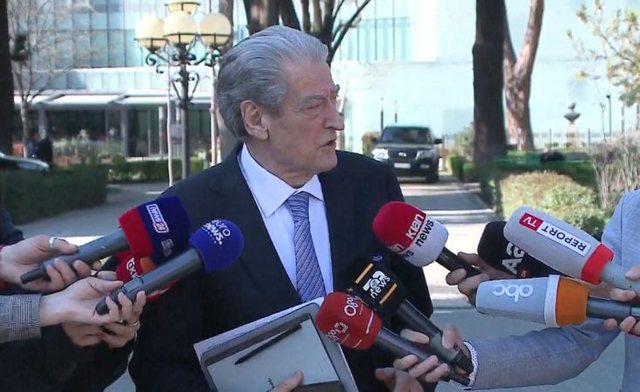 Sali Berisha spoke outside the Assembly building, where he called on the international community to react to the attack on the freedom of the media in the country, mentioning the last action in "Prestige Resort" that came because it was not accepted to change the editorial line.
The chief democrat said that the Albanians will pay for these acts of the prime minister towards other people's property.
"I want to denounce the state violence and terror against the media, the typical confiscations of dictatorships by executive order. Rama has passed a law, but it is anti-constitutional, a law which gives authority to the head of the Council of Territorial Regulation to confiscate as if he were a court . no prime minister in the world has such attributes."
"This signs today the looting, the destruction of the properties of the media owners. Here is an attack against the media. The truth is a complete placement of the media in the control of the government and free speech has never been in difficulty. I read carefully the denunciations of Mr. Irfan Hysenbelliu, what is implied is "Cherchez la feme".
"Zonja Rama, e kam denoncuar disa herë dhe e denoncoj. Para 5-6 vitesh ftoi gazetaret për ti nderuar në një pritje për vitin e ri. U tha gazetarëve se ju "po ma helmoni burrin". Tani përsëri del në rastin e Prestige, Arben Ahmetaj. Në qoftë se bëhen dy pushtete dhe përdoren kundër njerëzve të pambrojtur e thellon dhunën dhe terrorin ndaj të tjerëve. Unë kërkoj të ndalet kjo dhunë dhe ky terror dhe i bëj thirrje komunitetit ndërkombëtar, veçanërisht institucioneve që merren me fjalën e lirë, të ndërmarrin një hetim."
"The attack is that the owner of News 24 has not accepted Rama's editorial line. For me, terror is important because of the editorial line. I assure Albanians that for Ora News and Prestige, Albanians will pay as much as the chicken for the vandal acts of this prime minister towards the property of others, as Agon Channel pays, as they will pay the arbitration of the port of Durrës and many others. This situation requires a law that is charged to the person who makes decisions."