Provocation of the Serbs in the north of Kosovo, Putin's symbol is written on the KFOR vehicle
Politiko
2023-05-29 12:12:01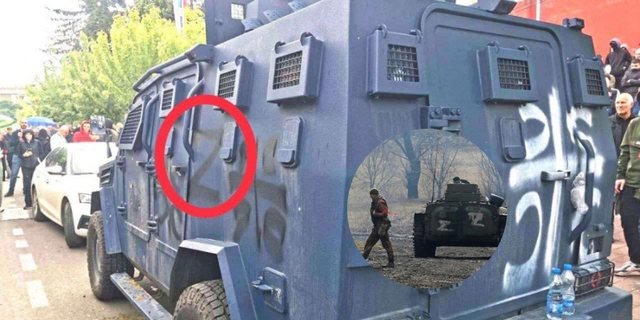 The tensions in the north of Kosovo have not ended, where the Serbs have thought to add "gasoline" to the fire. They wrote the letter "Z" on an American KFOR vehicle.
This symbol, which has become the symbol of Russia's war in Ukraine, has long been written on walls in the north of the country. Protesters have resisted by blocking the road to the headquarters of the northern municipalities. Some of them appear disguised.
The "Z" symbol was seen on tanks heading towards the Ukrainian border, days before Russian President Vladimir Putin ordered the invasion of the neighboring country.
This symbol quickly became a symbol of support for Putin's war in Ukraine and has also been seen painted on various buildings in the municipality of North Mitrovica, inhabited by a majority of Serbs, in protests in support of Putin in Belgrade, and in other places.