Today he pleaded guilty to the Albanian case, how Rama defended the arrested former head of the FBI: He was and is my friend
Politiko
2023-09-22 22:35:35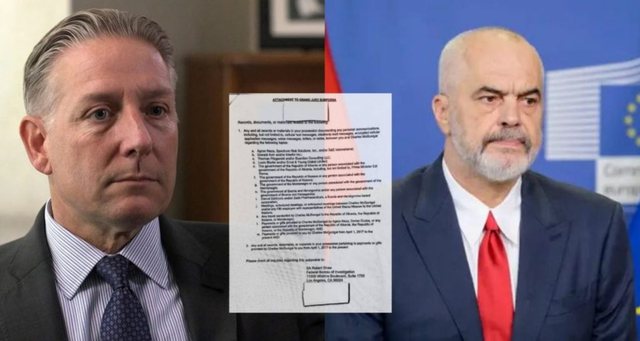 Former FBI official Charles McGonigal pleaded guilty at a hearing Friday afternoon to charges related to the fact that he received and concealed $225,000 from a former Albanian intelligence officer who, according to court records, became a source in an FBI investigation.
The guilty plea to the Washington court is a change from his not guilty plea at the start of the trial.
According to the announcement released by the State Department, McGonigal has pleaded guilty and faces up to 5 years in prison.
According to the world media, he also had meetings with Prime Minister Edi Rama, and the Albanian opposition is even demanding the establishment of a parliamentary commission to investigate their claims regarding the corruption by Prime Minister Rama's government of the former senior FBI official, Charles McGonigal, with the aim of for the latter to instigate investigations by the FBI for financing with Russian money the lobbying efforts in the USA of the Albanian opposition.
Rama has repeatedly denied these accusations, but has publicly admitted that Charles McGonigal has been and continues to be his friend.
" There is no question that the head of the FBI's Counter-Terrorism was and is my friend. If he has a case of his own with justice in the US it is his case with justice there. let US justice speak. Justice is not done and the guilty are not brought out and accusations are not made in this kind of religion that is terrible. And it's not terrible for me because I don't have any problems and as long as I continue in this task I have taken them into account and I expect more than that, I expect everything.
But it is terrible for this people, for this country, for all that we consider Albanian values, principles and traditions. What can I say more than that. It is about a case in the USA that has nothing to do with me, with the Albanian government, business of any kind, with this theory I agree that we should not meet anyone because tomorrow someone may have a problem with justice in his country. This is madness", declared Rama.