Why an agreement and not a PD-LSI coalition
Politiko
2021-03-01 20:00:03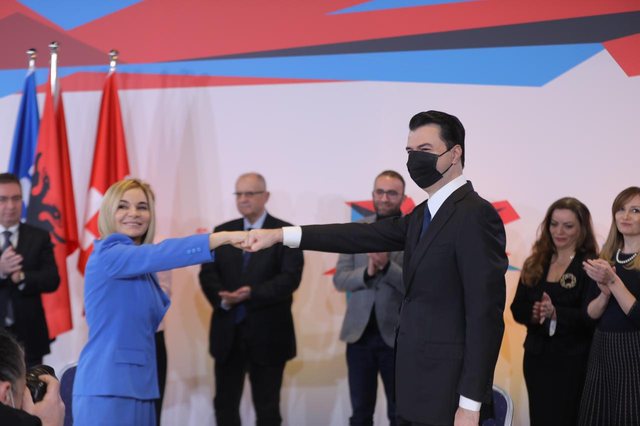 The Democratic Party and the Socialist Movement for Integration signed the agreement between them on Monday for a coalition in the April 25 elections.
With the slogan 'Albania, the house that wins', the agreement between the two opposition parties defines the points on which the coalition between the two parties will continue after the April 25 elections, as they set common objectives in facing and solving the country's critical problems.
Regarding the representation at all levels of the future government, according to the agreement it will be realized proportionally on the basis of the election result.
But why agreement and not in a joint coalition?
With the approved amendments to the Electoral Code, the political parties that will run on April 25, in the coalition can only do so with a single list and a single logo. This point has been strongly opposed by the extra-parliamentary opposition since the beginning of time.
The deputy chairman of the Democratic Party, Edi Paloka, in a connection with the show 'Opinion' last week, showed the reasons why the Democratic Party did not enter into a coalition with the SMI.
Paloka stressed that the opposition coalition aims to get every vote and maximize it.
'Qëllimi i këtij bashkimi është që si parti dhe si qytetarë ne të mundemi të garantojmë fitoren, me një qëllim për të sjellë më pas ndryshimin që presin shqiptarët. Marrëveshjet që kemi realizuar me partitë, janë marrëveshje që rregullojnë marrëdhëniet qoftë me kryetarët e partive qoftë me partitë me qëllim maksimalizimin e votës. Kemi një marrëveshje të hershme me kryetarët e partive', tha Paloka.
Sa i përket vendimit që PD dhe LSI të hyjnë të ndara në zgjedhje, Paloka tha se ky është një vendim i studiuar mirë që ndikon në maksimalizimin e votës.
'E kemi thënë edhe ne dhe LSI që qëllimi mbetet maksimalizimi i votave. Ne e kemi studiuar që PD në një krahë dhe LSI nga ana tjetër jo vetëm që do maksimalizojmë votat, por loja që bëri Rama me koalicionet do t'i kthehet në të kundërt', u shpreh Paloka.
Nga ana tjetër, kryetarja e LSI, Monika kryemadhi pati deklaruar më herët se koalicioni PD-LSI nuk është natyral, por jetik.
Në lidhje me daljen me dy lista në zgjedhjet e 25 prillit, Kryemadhi tha se nuk duhet rënë në kurthin e çështjeve teknike.
"Nëse ti do shkosh me një listë në një qark çfarëdo ku PD ka vlerat e saj, po ashtu dhe LSI dhe partitë e tjera të opozitës kanë vlerat e tyre dhe do ishte më mirë dhe do orientoheshin shqiptarët në 140 emra apo në 280 emra", tha ajo.
"What is important to understand is that the abnormality that Rama has installed today will lead to abnormal coalitions. Why, is it normal for PDIUs to decrease with PBDNJ that have never been reduced? "Indeed, the LSI-PD coalition is not natural, but it is vital for all Albanians and political parties ", added Kryemadhi.
Regarding the pre- and post-election coalitions, Kryemadhi gave some reasons.
" In a list in certain countries, the DP is weakened. DP is the largest party and should continue to collect its votes and in certain areas PD-LSI will enter a list again. The battle is not between PD-LSI militants. "The battle is to get the vote of those who are disappointed, " said Kryemadhi.