It provoked tension, Novak Djokovic does not back down: Kosovo is Serbia and I stand by that
Politiko
2023-06-01 10:09:41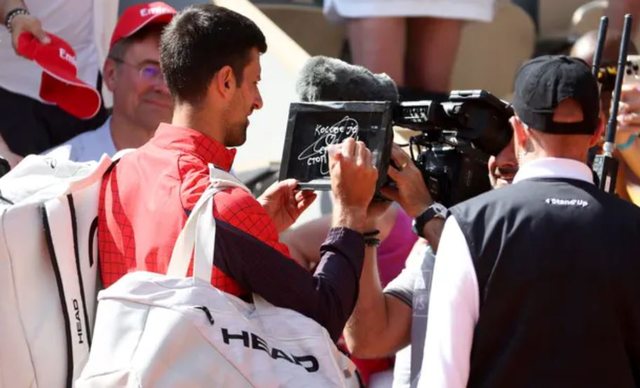 Novak Djokovic says he is "aware that people wouldn't agree" with him writing a political message about Kosovo in front of the French Open camera, but it is an issue he is "standing up for".
Djokovic, 36, wrote "Kosovo is the heart of Serbia. Stop the violence" after his first-round win on Monday. France's sports minister said the Serb's actions were "inappropriate" and should not happen again.
"A Grand Slam without drama, I don't think it can happen for me," said Djokovic.
"I think that drives me too."
The phrase written by Djokovic refers to recent tensions in Kosovo, which declared independence from Serbia in 2008. Serbia has never recognized Kosovo's independence.
There has been violence in recent days following the installation of ethnic Albanian mayors in the north of the country, with police and NATO troops clashing with Serb protesters. In his post-match press conference, the 22-time Grand Slam champion tried to put the controversy behind him.
Asked if he had thought about the backlash to his actions, Djokovic said: "Of course I'm aware that a lot of people would disagree, but it is what it is. It's something I stand by. So that's all."
After beating Hungary's Marton Fucsovics in the second round on Wednesday, Djokovic marked the target - which the winner does after every French Open match - with his signature.
The world governing body, the International Tennis Federation, said that Djokovic's statement did not violate any rules because the Grand Slam rules do not prohibit political statements.
Djokovic, whose father was born in Kosovo, said earlier this week that he was "against wars, violence and any kind of conflict" but that the situation in Kosovo is a "precedent in international law".
"Especially as the son of a man born in Kosovo, I feel the need to give my support to our people and to all of Serbia," he said on Monday.
"Kosova është djepi ynë, kalaja jonë, qendra e gjërave më të rëndësishme për vendin tonë, ka shumë arsye pse e kam shkruar këtë në kamera. Sigurisht që më dhemb shumë si serb të shoh se çfarë po ndodh në Kosovë dhe se si njerëzit tanë janë dëbuar praktikisht nga zyrat komunale, kështu që më e pakta që mund të bëja ishte kjo".
Autoritetet Olimpike të Kosovës kanë kërkuar nga Komiteti Olimpik Ndërkombëtar (IOC) që të hapë procedura disiplinore kundër Gjokoviqit, duke e akuzuar atë për nxitje të tensioneve politike.
"Kosova është zemra e Serbisë" mund të duket si një deklaratë e çuditshme. Në fund të fundit, Kosova u bë e pavarur në vitin 2008 - dhe vendndodhja e saj gjeografike në jugperëndim nënkuptonte se, edhe më parë, ajo ishte gjithmonë në periferi të Serbisë.