Why was Beatrix's comment deleted from Bora Zeman's photo?
Politiko
2021-12-02 14:30:30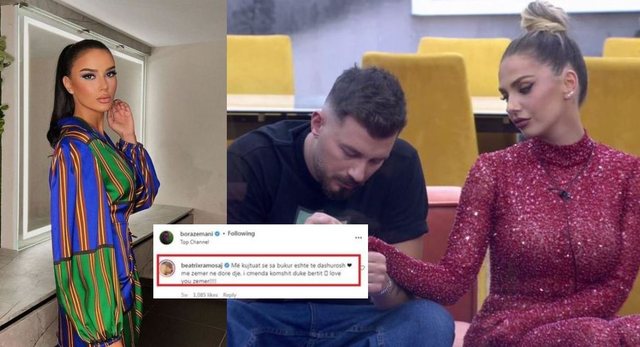 Beatrix is ​​connecting with Donald, who had given hope to Bpra Zeman, who was waiting for him outside - this is one of the most discussed topics of the moment and on the network has erupted a hatred for Donald and Beatrx but on the other hand a love of great for Snow.
Before Beatrix entered BBV's house, she commented on Bora's photo, the moment when the much-talked-about kiss between Bora and Donald took place.
"You reminded me how beautiful it is to love! With heart in hand yesterday. I drove the neighbors crazy shouting. "I love you dearly," she wrote in this comment.
This comment also made the rounds of the network, which Trixa herself talked about at home. But this comment no longer exists.
It is not known if it is the manager who is dealing with the Beatrix site, the person who deleted it or Bora Zemani himself, but friends close to Bora say that Bora does not have the nature to delete comments or "unfollow".