The US drops the Chinese balloon, Beijing reacts
Politiko
2023-02-05 16:22:08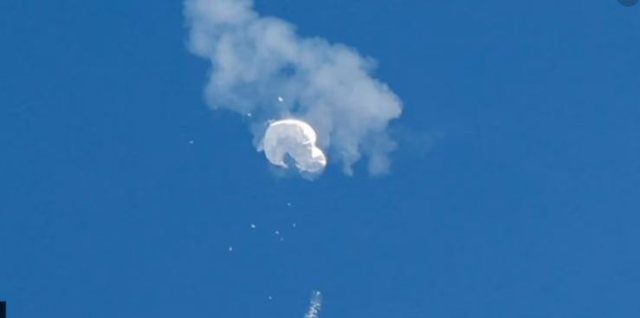 The US military shot down the Chinese balloon yesterday, which was suspected of being used by Beijing for surveillance.
It was struck while flying over the coast of South Carolina. The spy balloon flew for several days over sensitive military facilities across North America. After the balloon was shot down, Beijing reacted by warning of consequences, which it did not specify.
The Pentagon hit and shot down the Chinese balloon, which US officials said flew over several important military facilities in the country.
After the operation, President Joe Biden said that he was the one who had given the order for her downfall.
He added that he had requested its downing even earlier, but as Mr. Biden said, national security experts had estimated that the right time to carry out such an operation was when the flying object passed over the ocean.
"I ordered the Pentagon to take it down as early as Wednesday and as soon as possible. But the army decided to avoid any possible damage on the ground. They estimated that the best time to do this was when she was flying over the water. Now it was successfully brought down", said President Biden, after the operation to bring down the balloon.
China criticized the United States and called the downing of the balloon an overreaction and a serious violation of international practices.
Në deklaratën e saj të së dielës, ministria e Jashtme kineze shprehej se "Pekini do të mbështesë me vendosmëri të drejtat dhe interesat legjitime të kompanisë përkatëse dhe se gëzon të drejtën të ndërmarrë veprime të tjera në përgjigje të reagimit amerikan".
Prania e balonës në hapësirën ajrore amerikane i dha një goditje të rëndë marrëdhënieve tashmë të tensionuara SHBA-Kinë.
Ky incident u bë shkak që Sekretari amerikan të Shtetit Antony Blinken të anulonte një udhëtim të rëndësishëm në Pekin, që synonte pikërisht uljen e tensioneve mes dy vendeve.
Balona e cila kishte madhësinë e tre autobusëve shkollorë, u pa mëngjesin e së shtunës tek lëvizte mbi Karolinën e Veriut dhe atë të Jugut. Ajo u godit dhe rrëzua po fluturonte në brigjet e Atlantikut.
Një zyrtar i lartë i mbrojtjes tha se një avion luftarak F-22 e qëlloi atë me raketë, ndërsa ndodhej rreth 10 kilometra larg vijës bregdetare të Myrtle Beach në Karolinën e Jugut.
Zyrtarët thanë se largimi i mbetjeve të balonës nuk do të marrë shumë kohë.
Autoritetet amerikane thanë dje se balona hyri në zonën e mbrojtjes ajrore të Shteteve të Bashkuara në veri të ishujve Aleutian më 28 janar dhe lëvizi kryesisht mbi Alaskë para se të kalonte në hapësirën ajrore kanadeze të hënën.
Balona u pa të mërkurën mbi shtetin Montana, strehë e bazës së forcave ajrore Malmstrom dhe dhjetëra raketave bërthamore.
Por sipas vlerësimeve amerikane teknologjia e balonës nuk i dha Kinës më shumë të dhëna krahasuar me ato që merr përmes satelitëve.
Republikanët kritikuan përgjigjen e Presidentit Biden.
Mississippi Sen. Roger Wicker said that allowing a Chinese Communist Party spy balloon to fly across the United States is a "catastrophic indicator of the weakness of the White House."
On Sunday, the Pentagon confirmed reports that a second Chinese balloon, which is likely being used for surveillance, has been discovered in Latin America./ VOA