From the directives for the protest and participation in the elections to the resistance in the Parliament, what does Berisha say
Politiko
2023-02-03 20:14:58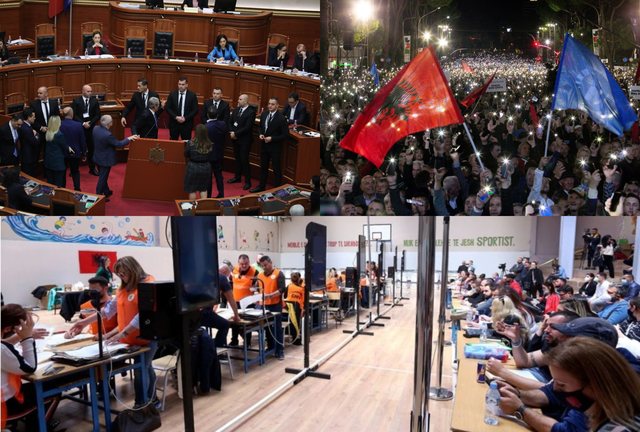 Sali Berisha spoke about the May 14 local elections. While accusing Edi Rama of obstructing the registration of the court decision recognizing him as president, Berisha expressed his conviction that the opposition will win the elections.
"You are witnesses, this bastard of Hodgist blockmen, but with the same ease that he has corrupted the head of the US counter-intelligence, with the same ease he confiscates the decision of the court in Albania not to allow PD to participate in the elections.
It never happens in the world that the most basic principles are respected that a court decision, which is a standard norm in any free country, the registration of political parties and associations in any free country, is made in court. But why is it done in court, precisely to separate it from the executive. Precisely in order not to give any word of influence to the executive in this decision, the court has given the decision for DP.
The court has found the Assembly of December 11, the statute of this assembly, the minutes and everything else of this Assembly in accordance with the laws of Albania. Everywhere except in Edi Rama's corrupt office, the next day this decision was registered in the register, because that court decision has only one purpose, the registration of the association or party in the register of political parties and associations. Edi Rama and his chancellor do not allow the registration and think that in this way they will exclude us. In this way he leads the country to a great confrontation. We are never excluded, we will participate in the elections and we will win the elections, he is very clear about this", said Berisha during a meeting with the party structures.
Më 11 shkurt do të zhvillohet protesta kundër qeverisë, për të cilën kryedemokrati kërkoi përgatitje.
"Prandaj dhe në këtë revolucion jashtë çdo diskutimi, Tirana duhet të jetë në krye, Tirana duhet të udhëheqë, Tirana duhet të jetë uragani që duhet të trondisë dhe shkulë nga themelet këtë regjim të kalbur të Edi Ramës", deklaroi kryedemokrati.
Më tej foli për qëndrimin e PD-së në Parlament. Ai tha se do të vijojë rezistenca, duke paralajmëruar fuqizim të saj. Berisha nënvizoi se Parlamenti është i popullit dhe jo i qeverisë, duke nënvizuar se demokratët do të mbrojnë atje, interesin publik.
"Ne jemi njerëz të betejës dheE jo të bojkotit, jo. Unë edhe dje e theksova, aty në parlament, i them s'ke parë gjë akoma me rezistencën tonë. Nuk e lëshojmë ne parlamentin, parlamenti është i qytetarëve, nuk është i horrave, i banditëve, i kriminelëve, vrasësve, ndaj dhe ne nuk e lëshojmë. Ne do të qëndrojmë aty me një rezistencë më të fuqishme se kjo që shqiptarët kanë parë deri më sot.
Po pse e bëjmë ne atë? Sepse parlamenti me kushtetutë është për ti dhënë mundësi opozitës të kontrollojë qeverinë dhe jo për ta përjashtuar, asgjësuar siç do ai me Lindën e tij. Kjo është një gjë e paimagjinueshme.
We submit laws because citizens expect us to see that we are law makers. Quite rightly, they say what laws our MPs are submitting there to protect our interests. Our laws by order of Rama, Linda puts them in the drawer, it never happens in the world, it can never be done. There are rules, that rule is the constitution of the parliament. This is the parliament today" , he added.