"Defakto lobbied for Putin", Berisha: Rama stabbed the USA and NATO in the security field
Politiko
2023-02-06 18:13:49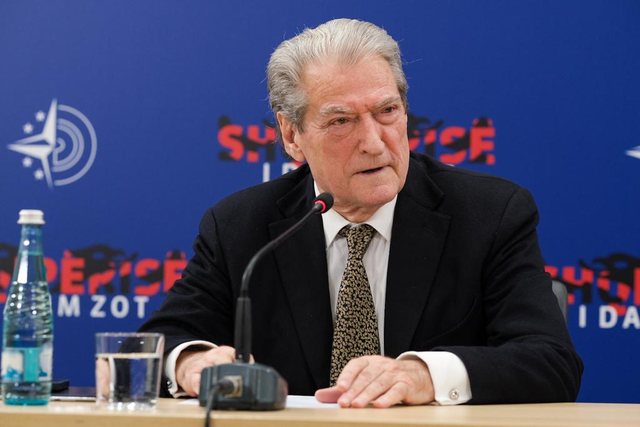 The head of the Democratic Party, Sali Berisha, declares that Prime Minister Edi Rama, with the "McGonigal" scandal, has stabbed the USA in the back, but also NATO itself and its member countries.
In the meeting he held with mayoral candidates across the country, Berisha said that he has done a great deal of damage to the USA, and this damage, according to him, is deepened if McGonigal has given information to the Russians about the US and other countries' agent network. others.
Berisha : This kills the hope of the Albanians that kicks their interests, even personal, but also national interests. This has turned into a Belgrade lawyer. Today he is the only prime minister in Europe who went from Summit to Summit, demanding that his boss Vucic not be pressured to accept the NATO and EU sanctions against Russia.
He was actually lobbying for Vladimir Putin. In other words, he said that Serbia should remain behind Russia in this crazy, barbaric, inhuman war.
Ky është kryeministri që pastaj shkon e korrupton, blen, njeriun ndër më kryesorët në agjencinë e zbulimit për sigurinë e SHBA. Dhe ka krijuar kjo një skandal jashtë imagjinatës. Ai ndryhet në Surrel dhe përpiqet ta kalojë, por nuk kalohet kjo, është e pakalueshme.
Çdo ditë mediat e mëdha amerikane e trajtojnë këtë akt të turpshëm, të papërgjegjshëm. Në një aspekt ky është një akt armiqësor ndaj SHBA-së në fushën më sensitive, fushën numër 1, në fushën e sigurisë. Për atë vend dhe për çdo vend, fusha e sigurisë është fusha e parë më e rëndësishme, me distancë nga të gjitha të tjerat.
Ky pikërisht në këtë fushë i fut një thikë pas shpine SHBA-së. Por nëse i fut thikë pas shpine SHBA-së që janë udhëheqësi i NATO-s, që janë përgjegjësi kryesor për paqen, stabilitetin dhe mbrojtjen e vendeve të lira, ti këtë akt e ke kryer jo vetëm ndaj atyre, por edhe ndaj NATO-s dhe vendeve të lira. Dhe kush e bën këtë, e bën kryeministri i Shqipërisë, një vend anëtar i NATO-s. Nuk e bën Llukashenko këtë, por e bën Tirana e Edi Ramës. Nuk ka faqe të zezë më të madhe se kjo, nuk ka turp më të madh e krim më të shëmtuar.
He comes out and crawls like a reptile in the media, no yes I met him like that and no I met him... But when he called him friend with pride and when he threatened his opponents with the FBI, when he warned them in parliament that they would be declared non grata and did not crosses the Atlantic that there were corrupt people, after themselves, who had betrayed their duty and their country and had become the victim of a man without morals, without character, without honor, without a flag, without anything, like Edi Rama. He forgets this.
But we have to be realistic. Of course, he has done a lot of damage to the USA, and the damage becomes extraordinary if his friend McGonigal, who recently married Edi Rama, has given information to the Russians about the agent network of the USA and other countries. Because this would have a very high cost in human life and other aspects.