"We bring new energy", but with old names; The list of SP for Municipal Councilors is filtered, who are the names running
Politiko
2023-03-27 18:51:58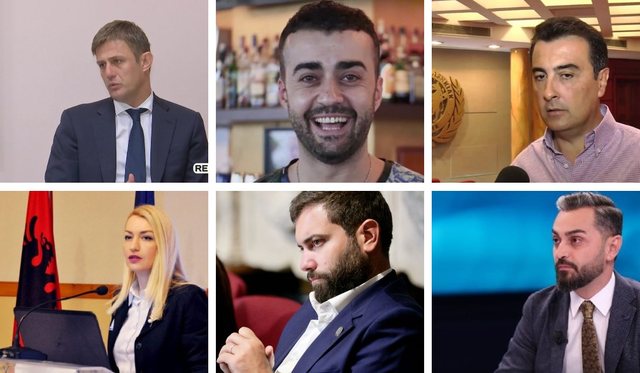 The President of the SP in Tirana, Erion Veliaj, presented today the list of candidates for the Municipal Council of Tirana, which has been submitted to the Central Election Commission. Veliaj was enthusiastic about the names running, saying that it is a list that will bring new energy.
Thus, many ex-deputy ministers and ex-socialist MPs, ex-advisor to Prime Minister Edi Rama, Endri Fuga will run for the municipal council. Part of the names competing are also names that once held leadership positions in various institutions appointed by the SP, names that are re-candidating for the municipal council, employees of the municipality of Tirana, headed by Veliaj, while the end of the list is completed with names FRESH.
Candidates:
1. Romina Kuko - Deputy Minister of the Interior
2. Aldrin Dalipi - head of the Municipal Council of Tirana
3. Megi Fino- për Europën dhe Punët e Jashtme
4. Eridian Salianji- Sekretari për Çështjet Ligjore dhe Zgjedhore në Partinë Socialiste
6. Endri Fuga- ish-këshilltari i kryeministrit Edi Rama
8. Plarent Ndreca- ka mbajtur postin e Sekretarit të Përgjithshëm të Ministrisë së Arsimit,
9. Sonila Qato-Zv.kryeministre
10. Luan Bregasi-biznesmen
11 Arta Dollani Këshilli i Ministrave emëroi sot Arta Dollanin në krye të Agjencisë Kombëtare të Mjedisit.
12. Genc Hyska- Drejtori i Maternitetit "Koço Gliozheni
13. Joleza Koka-Aktiviste e PS
14. Julian Hodaj-Zv,ministër i Brendshëm
15. Reme Lala-Ish deputete e PDIU, drejtoreshë e Shërbimit Social Shtetëror
16. Redi Jupi-Futbollist , rikandidat
17. Blerina Doracaj- Ish drejtoresha e Hipotekave
18. Gaz Paja-aktor, aktivist i PS
19. Silda Anagnosti
20. Endri Hoxha- Zëvendësministër i Arsimit, Sportit dhe Rinisë
21. Adelina Greca- ish Drejtoresha e Përgjithshme e Agjencisë Kombëtare të Planifikimit të Territorit
22. Hantin Bonati- zëvendësministrit të Infrastrukturës dhe Energjisë
23. Vjollca Braho- zv/ ministri i Shëndetësisë
24. Glinxhet Madhi- Kryetari i Forumit Rinor Eurosocialist Shqiptar (FRESSH) për degën e Tiranës
25. Katerina Marku- nënkryetare e Këshillit Bashkiak të Tiranës
26. Aldo Merkoçi- Drejtorin e Zyrës për Marrëdhëniet me Median pranë Lëvizjes "Mjaft
27. Albina Nanaj-rikandidon
28. Enio Civici-zv.ministër i Bujqësisë
29. Xhilda Kito- këshilltare e Ministrisë së Brendshme
30. Besart Kadia- zv.ministër Evropën dhe Punët e Jashtme
31. Maura Linadi- Maura Linade
32. Agim Kraja- ish këshilltar i LSI-së në Këshillin Bashkiak të Tiranës
33. Grejsi Bixhi
34. Halit Valteri-ish deputet i opozitës së re
35. Kamela Banushi
36. Rezart Isufi- Drejtor Drejtoria Rajonale Tirane at OSHEE
37. Xheni Hatllari- konsulente në Bashkinë e Tiranës.
38. Alfred Muharremi- ish kandidati në listën e partisë socialiste për deputet në qarkun e Tiranës
39. Sara Shameti- aktivistet e fressh
40. Sead Kazanxhiu-
41. Bora Minga
42. Roy Bashaj- anetar i këshillit bashkiak
43. Gresa Hoxha
44. Tedi Deraj- FRESSH
45. Elektra Kadriaj- FRESSH
46. Tahir Batalli-aktivist
47. Rea Kalo-FRESSH
48. Kejdi Jazenxhiu
49. Sindi Tona-Vajza e këngëtares Manjola Nallbanit
50. Endrrit Fetahu
51. Anxhela Bakiasi- FRESSH
52. Hermes Kafenxhiu- Specialist në Zyrën e Mediave në ministrinë e Shëndetësisë
53. Fatbardha Sadikaj
54. Savio Dosti- FRESSH
55. Erisa Veliu
56. Samuel Nazeri
57. Romina Zaimi- punon në bashkinë e Tiranës
58. Albi Deliaj
59. Helena Kace
60. Qazim Fucija
61. Kamelisa Selami-FRESSH
62. Emanuel Dosti
63. Olsa Ulqinaku-FRESSH
64. Aldo Aga
65. Arsiva Qefalia
66. Irla Pirra