"French Open 2023", the French minister criticizes Novak Djokovic for the political message towards Kosovo
Politiko
2023-05-31 17:54:07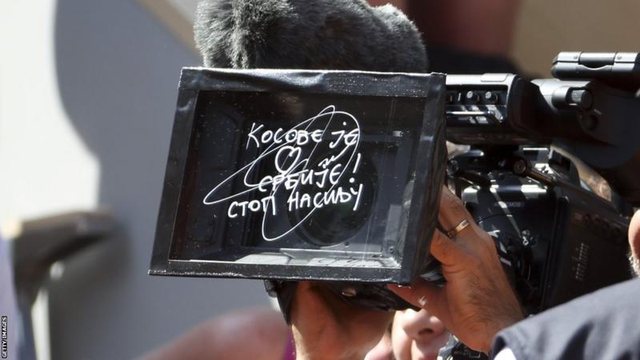 Novak Djokovic's political message about Kosovo at the French Open was "out of place" and "should not be repeated", says the French Minister of Sports. Amelie Oudea-Castera said there should be a "principle of neutrality for the playing field". The Serbian tennis player wrote on the camera lens "Kosovo is the heart of Serbia. Stop the violence."
Serbia has never recognized Kosovo's independence and there has been violence in recent days following the installation of ethnic Albanian mayors in the north of the country, with police and NATO troops clashing with Serbian protesters. The world governing body, the International Tennis Federation, said Djokovic's statement did not violate any rules because the Grand Slam rules do not prohibit political statements.
"When you carry messages for the protection of human rights, messages that unite people around universal values, an athlete is free to express them," Oudea-Castera told broadcaster France 2.
"But in this case it was a very activist message, which is very political. You shouldn't get involved, especially in the current circumstances, and it shouldn't happen again."
Oudea-Castera tha se bëri një dallim për mesazhet në mbështetje të Ukrainës përballë pushtimit të Rusisë, duke shtuar se ajo nuk e vendosi Kosovën dhe Ukrainën "në të njëjtin nivel". Kjo përfshin mbështetjen e lojtares ukrainase Marta Kostyuk, pasi ajo refuzoi të shtrëngonte duart me Aryna Sabalenka të Bjellorusisë të dielën. Djokovic, 36 vjeç, ka mbrojtur mesazhin e tij, të cilin e shkroi menjëherë pas fitores së tij në raundin e parë ndaj Aleksandar Kovaçeviç të martën. Duke folur me gazetarët serbë, kampioni 22 herë i Grand Slam në single, babai i të cilit ka lindur në Kosovë, tha se ai ishte "kundër luftërave, dhunës dhe çdo lloj konflikti", por se situata në Kosovë është një "precedent në të drejtën ndërkombëtare".
"Sidomos si bir i një njeriu të lindur në Kosovë, ndjej nevojën të jap mbështetjen time për popullin tonë dhe për tërë Serbinë", tha Djokovic.
"Kosova është djepi ynë, kalaja jonë, qendra e gjërave më të rëndësishme për vendin tonë, ka shumë arsye pse e kam shkruar këtë në kamera. Sigurisht që më dhemb shumë si serb të shoh se çfarë po ndodh në Kosovë dhe se si njerëzit tanë janë dëbuar praktikisht nga zyrat komunale, kështu që më e pakta që mund të bëja ishte kjo".
Autoritetet Olimpike të Kosovës kanë kërkuar nga Komiteti Olimpik Ndërkombëtar (IOC) që të hapë procedura disiplinore kundër Djokovic, duke e akuzuar atë për nxitje të tensioneve politike.
"Novak Djokovic has once again promoted the propaganda of Serbian nationalists and used the sports platform to do so," said Ismet Krasniqi, president of the Kosovo Olympic Committee.
On Tuesday, the Kosovo Tennis Federation said Djokovic's actions would "directly result" in increased tension between the two countries.
BBC Sport