He was arrested today, what former police chief Bode declared in the interceptions with Habilaj
Politiko
2022-08-11 22:06:50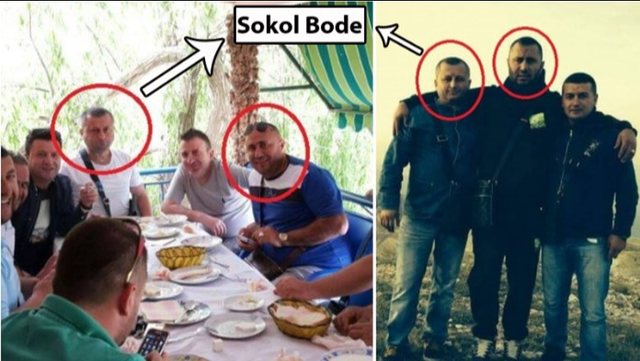 Sokol Bode, the former head of the Dhërmiun Police, who was arrested by the police in Berat, was involved in the drug trafficking of the Habilaj group.
Bode was sentenced in absentia by GJKKO to 12 years in prison, while it is suspected that the former police chief helped Habilaj in drug trafficking and kept in touch with their traffickers.
In the interception of Sokol Bode with Florian Habilaj, the former boss meets with Habilaj, while in another interception he informs them about the Babicë e Madhe Center.
tapping
On 15.10.2017, at 09:11, the number ending with 777, used by Florian Habilaj, was called by the number ending with 888, which belongs to Sokol Bode.
Bode: Hello
Habilaj: Yes
Bode: How are you gold, how are you?
Habilaj: Okay, thank you
Bode: Sokol Bode bothers you
Habilaj: Yes
Bode: I'm coming to the base in 10 minutes
Habilaj: Where am I waiting for you?
Bode: Down
Habilaj: Shall I come to the gas station?
Bode: N'Cole, N'Cole
Habilaj: Come, I'm coming there.
On 16.10.2017, at 15:31, the number used by Artan Habilaj, received an SMS
from a number ending with 987 with the following content: See news in "Klani"
Më datë 16:10.2017, ora 17:29 e në vazhdim, Armando Koçerri është telefonuar
nga motra e tij:
Koçerri: Hë
Motra: Ç'bëtë juve, mbaruat punë
Koçerri: Pse kishe gjë apo…
Motra: Jo, ore jo, nuk kisha gjë. Ka dalë te Fokusi Qendra Babicë e Madhe, në televizor
për qendrën që s'është në rregull
Koçerri: Po mirë, le të dalë
Motra: Shikoj i çik lajmet
Koçerri: Pse?
Motra: Po shikoj
Motra: Hë ore
Koçerri: Të orës tre e gjysmë
Motra: Jo, ore jo, tani të orës 5
Koçerri: Sa
Motra: Jo ore jo, tani lajmin e fundit shikoje, hajt
Koçerri: Hë, alo
Motra: Po lehin qentë poshtë shtëpisë së xhaxhait ore
KOçerri: I'm coming, I'm at the dam
Sister: Eh, so I took you
At 9:10 p.m., Armando Koçerri was called by Florian Habilaj
Koçerri: Brother
Habilaj: What are you doing o
Koçerri: Nothing at home, what do we have
Habilaj: I'm coming with Fred
Koçerri: Good
On 17.10.2017, at 21:49, Armando Koçerri was called by his sister
Koçerri: Hë
Sister: What did you do
Koçerri: Hiç
Sister: There are people down by the olive trees
Koçerri: Who is there?
Sister: The dogs are barking. I don't know if they are picking the olive trees or what they are doing, there are people
under the olive trees
Sister: Now the dogs have rested
Koçerri: Look at the light