"Clinton needs your help" / Rama tells the conversation, how he was asked to shelter Afghan refugees
Politiko
2021-12-07 14:50:20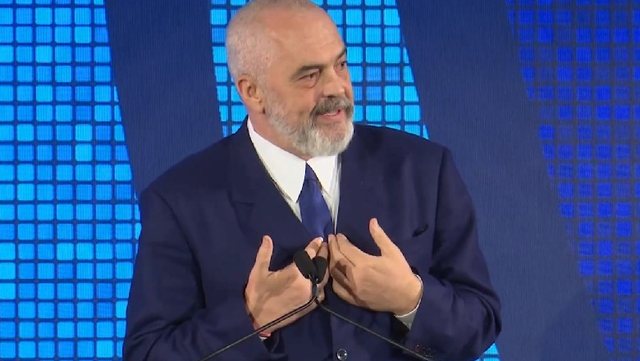 Prime Minister Edi Rama told how he got acquainted with the request to shelter Afghan refugees in Albania, after being awarded a prize by "Vital Voice Global".
He said in August that a U.S. official had told former Secretary of State Hillary Clinton that Rama needed help. The prime minister added that he was committed to meeting her need for immigrant housing, stressing that there was little hope that Clinton would thank him in the end.
Rama stated that the opposite happened and that the former secretary contacted him after the arrival of Afghans in our country.
"Before I tell you what I have to say, I want to tell you that, according to Vital Voice (the vital voice) in my family, my wife, Linda, modesty is not my strong point. So when you listen to me that I tell you that I feel not only humbled, but also thrilled for this extraordinary honor bestowed upon me, I think so truly because it seems to me a rather alarming sign for the world in which we live, this great desire to appreciate a judgment reasonable basis.
Më pas, në gusht, kur situata nisi të vështirësohej, dikush erdhi në Shqipëri e më tha: "Sekretares Klinton i duhet ndihma jote". Ia ktheva: "Si është e mundur? As në ëndërr s'e kam parë!" "E kam seriozisht!", vazhdoi ai. Pastaj, ai – se ishte një "ai", meqë ra fjala – më tregon për Vital Voice e gjithë të tjerat dhe unë i them: "Në rregull, eja ta bëjmë". "Si?", thotë.
"Ta bëjmë, t'i marrim këto gra".
Më thotë: "A do që të të marrë në telefon Sekretarja Klinton?"
"Jo – i them – eja ta bëjmë, pastaj, nëse do të kujtohet më për këtë, le të më marrë në telefon." (E di, meqë ra llafi, se është shumë amerikane… të paparë kur vjen puna për të të joshur e, pastaj, kur mbarojnë punë të thonë: "Më fal kush je?")
However, this was not the case and she called me. "When all the women on the list were rescued and settled in Albania, she called me and, of course, it was a great honor ," Rama said.