"They have no sea and their heads get hot", Rama comments on the situation in Kosovo: The Serbian army has zero power
Politiko
2023-05-31 11:37:29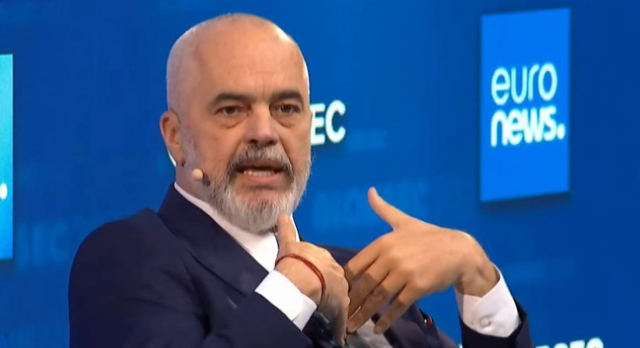 Prime Minister Edi Rama, as he commented on the situation in the north of Kosovo, the presence of Serbian soldiers on the border with Kosovo is equal to zero.
From Bratislava, where the forum for the Balkans is being held, Rama made a comparison between the Serbian army and the Mexican one on the border with America, but without addressing the blame to anyone.
"This is the most incredible display of internal politics, because the Serbian army on the border of Kosovo has a power equal to zero. It's like the Mexican military showing up at the US border. What can he do? Nothing. It is only about domestic politics. There is a lot about internal politics, and what happens on the border with Kosovo ," said Rama.
The Prime Minister has ironized the situation by saying that "they have no sea and their heads get hot", while adding that the cause is the impasse created in mutual recognition
"Unfortunately, before summer comes, we have problems in the northern part of Kosovo, maybe they don't have sea and heads get hot. Where we were 10 years ago, we were in a much more difficult situation. Today, BP is in the best position, even between Kosovo and Serbia, they are only steps away from fulfilling the historic agreement. This goes against their inertia to fight to live. There is a reason for this conflict that, in my view, could have been completely avoided. It is not indicative of concrete problems, these chosen acts, the essence is that there is an agreement that must be concluded, mutual recognition. There is a reluctance to reach this agreement" , Rama added.