Not just the replacement of controllers, Rama '' way out 'through Turkey
Politiko
2021-04-08 18:37:08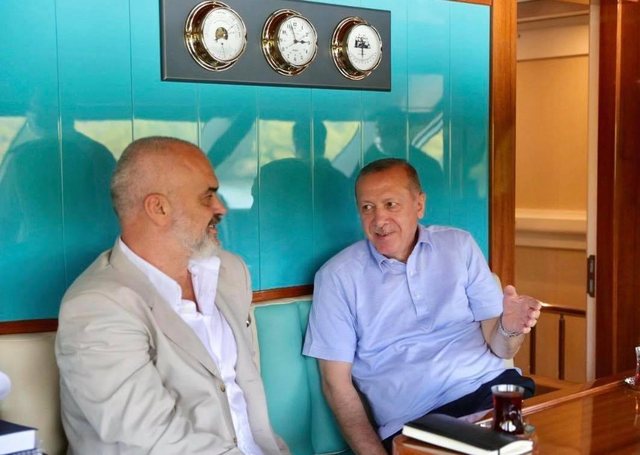 Turkish President Recep Tayyip Erdogan and Albanian Prime Minister Edi Rama have never hidden their friendship.
Even when Rama visits Turkey, Erdogan reserves a pompous reception for him, which often becomes the subject of discussion in the Albanian media and public opinion.
The friendship between them has been emphasized even more during the last two years of Rama's rule, when Albania was hit by the earthquake of November 26, and a few months later, like the whole planet, the covid-19 pandemic.
Albania is rejoicing in Turkish investment, and has not been able to say no to Erdogan's continuing demands to pursue what official Turkish policy calls the FETO terrorist organization, and has blamed it for a military coup in the summer of 2016.
The latest case, that Albania solves a deadlock created by the flights at the only airport it has, 'Mother Teresa', was replacing the Albanian controllers who protested for 48 hours, with the Turkish ones.
1 million anti-Covid vaccines from the deal in Istanbul
On March 25, the Albanian government provided 1 million doses of Chinese Sinovac vaccines against Covid-19, following negotiations with a Turkish company authorized to distribute these vaccines.
Nga kontrata e nënshkruar në Stamboll mes kryeministrit Edi Rama dhe kompanisë turke "Keymen Ilaç Sanayive Ticaret", parashikohej që fillimisht të blihen 500 mijë doza, ndërsa fillimisht asokohe mbërritën 192 mijë doza.
Lajmin e bëri të ditur kryeministri Edi Rama në Facebook, i cili bashkë me ministrat Arben Ahmetaj dhe Ogerta Manastirliu, ishte në Stamboll për të nënshkruar marrëveshjen.
Kjo lëvizje e Ramës erdhi pasi qeveria miratoi një akt normativ që lejon Shqipërinë që të marrë vaksina nga të gjitha vendet prodhuese dhe të negociojë me të gjitha firmat farmaceutike.
Spitali i Fierit
Gjatë vizitës së fundit në Turqi kryeministri Edi Rama mori premtimin nga presidenti turk se brenda tre muajve do të ndërtohet spitali rajonal i Fierit, duke koenciduar para zgjedhjeve të 25 prillit, i cili pas ndërtimit do të administrohet nga burimet njerëzore të Turqisë për një periudhë tranzitore.
Ndërtimi i spitalit të Fierit me kosto 60-70 milionë euro erdhi si projekt pasi u nënshkrua në Ankara krijimi i Këshillit të Bashkëpunimit Strategjik në Nivel të Lartë mes dy vendeve. Në sajë të kësaj marrëveshje, në 4 mars gjuha turke është vendosur si lëndë me zgjedhje në shkollat shqiptare.
Në Fletoren Zyrtare është publikuar marrëveshja mes dy vendeve e cila parashikon edhe futjen e gjuhës turke në shkollat shqipe si lëndë e një gjuhe të huaj me zgjedhje të lirë, me qëllim një programi pilot në gjuhën turke.
Turkey has also assisted in the post-earthquake reconstruction process, as well as in the fight against coronavirus in Albania.
We recall that Turkey is an important economic trade partner country with Albania and during 2020 Albania's trade exchanges with Turkey increased to over 55 billion ALL.