The closure of the Turkish college/ Berisha: The decision was taken outside Albania, Rama is Erdogan's vassal!
Politiko
2022-09-26 12:30:11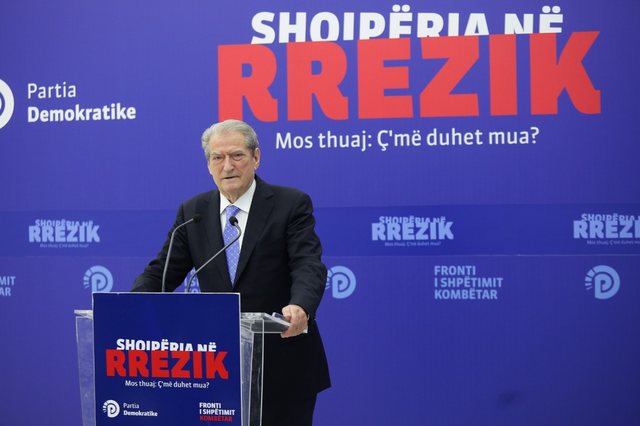 In the statement from the blue headquarters, Sali Berisha accused Prime Minister Edi Rama of the closure of the Turkish college by the government. Berisha considered it a blow to private education in the country. He considers the government's reasoning for closing the school a fraud.
Më tej, Berisha tha se kreu i qeverisë është një vasal i presidetit turk Erdogan. Gjithashtu vuri në dukje se ky vendim ka në bazë lidhje të dyshimta.
"Ky vasal i shpifur i Erdogan, që e cilëson Shqipërinë ku mund të urdhërojë hapje e mbyllje shkollash dhe xhamish, ka urdhëruar mbylljen e një kolegji me parametrat më të mirë dhe me një histori 26-vjeçare në Shqipëri, kolegjit 'Mehmet Akif'.
Në traditën e tij të gënjeshtrave, Rama u tha shqiptarëve se shkaku i mbylljes ishte se miku i tij, me avionin e të cilit udhëton si taksi, ka blerë godinën. Gënjeshtar i lindur, i shpifur. Të na thotë pak, kopshtit me 255 nxënës, të gjithë të afërt me moshën e djalit të tij, çfarë kishe me kopshtin, që mbylle?
Does this person know that those little girls, the day after the family daycare, spent in this daycare, with each other, where they learned, enjoyed, celebrated with each other. They waited for the next day to happily go to the garden.
This born liar, who in order to carry out the blind orders of the president of Turkey, violates every ethical and moral code in his country. This is a decision made outside Albania. A shameful decision, a decision that is based on extremely sick and suspicious relationships" , said Berisha.