Rama: We were molded by the regime's propaganda that you are the greatest evil; Meta: The house of the Albanian belongs to God and his friend
Politiko
2021-05-04 10:25:22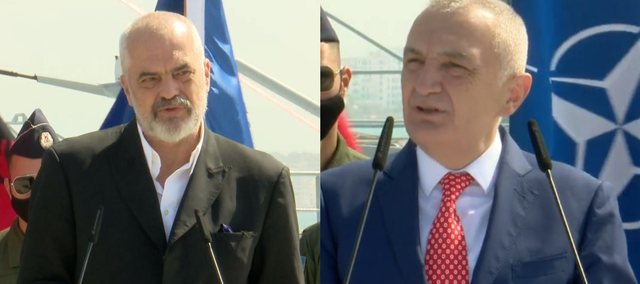 The "Defender Europe 21" exercise started today in Durrës, where the hospitality ceremony was held. Prime Minister Edi Rama thanked the American generals, and described this important moment for the strengthening of US-Albania relations.
He also spoke about the relations between the two countries during the dictatorship regime, emphasizing that the propaganda molded the conviction that the USA is the greatest evil for Albania.
"We appreciate the excellent relationship, the fact is that they can be even better thanks to a great deal of trust, mutual interaction. Our generation grew up halfway through here with the idea that you should not be allowed to trespass on this place. we were molded by the propaganda of the previous regime with the conviction that you are the greatest evil that can happen to Albania, but to the whole world.
For our generation, it is truly a great miracle that has divided life between two worlds, of that small, dark and completely isolated world, and one where we can proudly and respectfully welcome our American friends and partners.
I really want to believe that after your landing in Albania, what happens to everyone will happen to you, you will want to come back again. Albania is not advised to come, due to stereotypes. But whoever comes, wants to come back. I am very confident that it will happen to you too. "Not only in your high capacity, but also in very respected friends ", said Rama.
President Ilir Meta was also present at the event. He said that the country feels appreciated, that it was selected to conduct this important exercise.
He also spoke about the Albanian hospitality, welcoming foreign troops. Meta stressed that Albania-US relations are early.
"Albania as a NATO country feels appreciated that it is organizing the exercise. NATO is the largest alliance of freedom in the world. Support for it is unanimous. Honorable participation, Defender 21, FA will wait and support the troops that will increasing in Albania.Increasing the level of preparation to fulfill the constitutional mission.
All those who will visit us will be impressed because the house of the Albanian belongs to God and friend. Dear many friends from the USA, the strong friendship is much earlier than the period of the Albanian state. It dates back even before the great American poet wrote one of Skanderbeg's most beautiful poems. "We will continue on the path of freedom and European civilization ," Meta said.