Cocaine boss, Agim Çerma sentenced to life in prison in Albania, leaves cell in unclear circumstances
Politiko
2021-07-20 13:44:40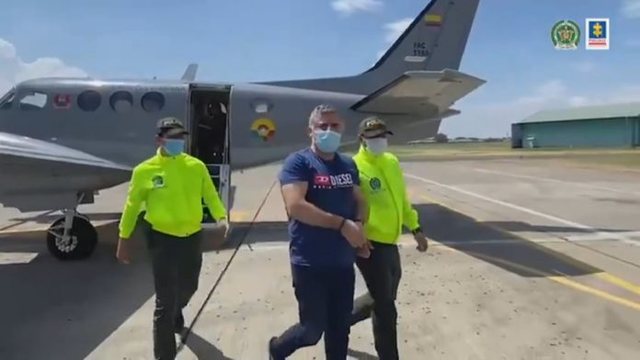 Agim Çerma, also known as "Jimmy", who was arrested two days ago by the American DEA as the boss of cocaine trafficking in Colombia, turns out to be sentenced in Albania to life imprisonment for a murder registered in 1997 In Elbasan.
At that time, he was arrested together with his brother, Gazmend Çerma, after being accused of killing Gëzim Liçi and injuring police officers. In 1998, the Elbasan Court of First Instance sentenced Agim Çerman to life imprisonment for premeditated murder, and his brother, Gazmend, to 11 years in prison.
The latter appealed this decision to the Durrës Appeal, a request that was rejected. In the complaint made by him, Gazmend Çerma transferred the responsibility to his brother, Agim, arguing that he did not know that his brother had a weapon with him and that he would commit the murder.
Agim Çerma also appealed in the Durrës Appeal the decision with life imprisonment by the Courts of Elbasan. This request was rejected by the Durrës Appeal and the High Court. While the Constitutional Court passed the First Instance in Elbasan for retrial. The court of Elbasan transferred the case to the Court of Lezha, as Agim Çerma was serving his sentence in Shënkolli prison.
In 2012, the Lezha Courts released Agim Çerma on parole in still unclear circumstances, and his release bears the signature of Judge Parashqevi Ademi. The latter, in 2015, was arrested for corruption and abuse of office and the former Serious Crimes Court sentenced him to 4 years in prison.
Agim Çerma was arrested two days ago inside his house in the city of Palmira, Colombia and according to the Colombian authorities, the Albanian trafficker was in charge of criminal activity and collaborated with the most dangerous groups in Colombia. His 4 accomplices were also handcuffed, while 333 kilograms of cocaine and 2 billion pesos, about 450 thousand euros, were found and seized.
Cerma took money from Europe to buy cocaine and then guaranteed the delivery of drugs by charter flights to the US but also Europe to Bulgaria from flights via international airports. For cocaine trafficking they also used Colombian seaports, where drugs were hidden in containers of goods.
Colombian media write that the Albanian cooperated with "Clan del Golfo" (Colombian drug cartel) in the Urabá region and with "FARC" (Colombian Revolutionary Armed Forces) in the southwestern part of the country to buy cocaine and transport it, while had corrupted air traffic controllers to move smoothly.