Violations in the May 14 elections, Berisha: Those who say why you didn't film, are accomplices of crime
Politiko
2023-05-29 13:19:06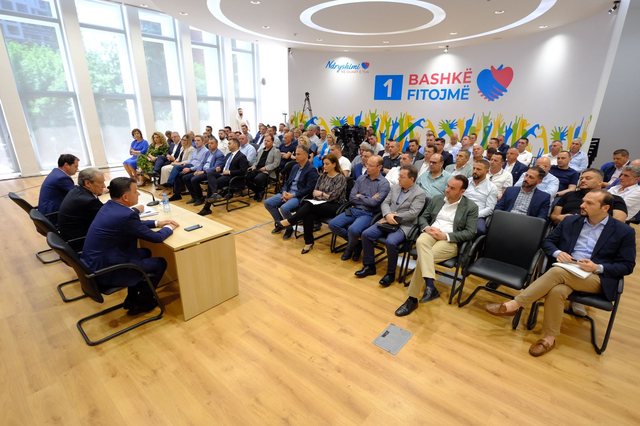 Sali Berisha brought up the topic of the May 14 elections, in the meeting he held with 61 candidates for mayors and heads of DP branches.
He said that in this election the world of crime was more ferocious, more organized than in any other election. Berisha also expressed to those who say that you didn't film or catch them, they are with the thief.
"Hundreds of millions of euros were used against you. 500 million euros in violation of the Electoral Code. In addition to the disbursement in the earthquake zone of millions and millions of euros in the bank accounts of citizens saved apostates for the electoral campaign, these were the first elections where the government's decisions for the envelope and salary increase, became a determining factor for the result."
"The world of crime was in this election more ferocious, more organized than in any other election. Criminal gangs were strengthened and encouraged by the release from prisons or the bringing from Dubai of their main exponents. What was the underhanded vote buying? No one can denounce because the one who receives the money commits a criminal act."
"The opposition does not have surveillance tools and is not authorized to have filming tools. It has collected what the citizens bring. Those who demand evidence from the opposition are the advocates of vote buying. Those who say that you did not film or capture them, they are along with the thief. They have the same morals."
"As a journalist, you must protect the public interest and not try to cover up, to cover up an unprecedented monstrous crime. You prove that for you the opposition does not matter, freedom does not matter. For you, the pocket and only the pocket matters. Those who the government gives."
"The opposition neither films nor eavesdrops. There are no citizen surveillance programs. The law and the Constitution clearly define the bodies and institutions that are allowed such a practice. This practice is not foreseen for political parties. The opposition will soon finalize the report ."
"We have been in constant contact with you, but we deemed this meeting necessary because this is the last week from which we ask you to collect any other facts that may have remained uncollected. Every fact, every document , any denunciation, so that this report is as complete as possible."
"Ky raport do u paraqitet shqiptarëve, do u paraqitet ndërkombëtarëve. Pas përfundimit të këtij raporti, ne do nisim analizën dhe unë them se është në detyrimin tonë absolut një analizë më seriozja që kemi bërë ndonjëherë për zhvillimet, për problematikat, për mangësitë, për defektet e të gjithë makinerisë sonë elektorale nga kreu tek anëtari i thjeshtë."
"Mbledhja e këtyre të dhënave është e një rëndësie të jashtëzakonshme, është një detyrim moral dhe ligjor që kemi përpara zgjedhësve shqiparë. Është jetik për t'u dhënë përgjigjen më të mirë problemeve dhe për të shkuar drejt betejës së ardhshme."
"Kështu që dua të siguroj anëtarët dhe mbështetësit e PD se analiza e zgjedhjeve, që do jetë faza tjetër pas denoncimit, do bëhet me seriozitetin më të madh. Nuk ka asnjë mëdyshje."