Berisha shows what is happening with the trial against Blinken: There are factors for and against me
Politiko
2022-05-20 13:24:08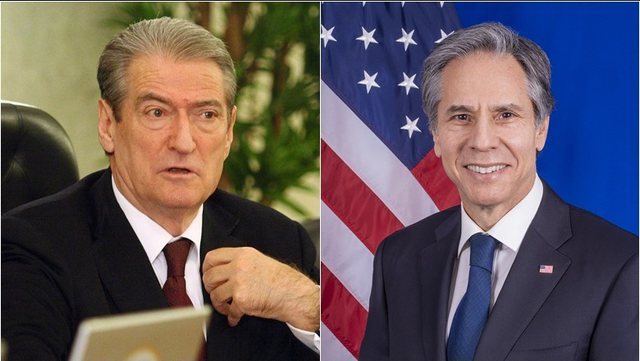 Former Prime Minister Sali Berisha has shown what is currently happening with the trial against US Secretary of State Antony Blinken, whom he has sued in the Paris Court.
Berisha showed that there are factors for and against him in this process. First, Berisha stressed that neither is a French citizen, and second, Blinken is a person with immunity. On the counter factors, lies the fact that defamation is punishable and that such an act does not enter into the official activities of Blinken.
"The trial in France is being pursued with great commitment by my lawyer, to whom I have given full confidence. But, as I have announced, there are pros and cons against me. Against me is the fact that neither I nor the Secretary of State are French citizens. But I can say something more, we are not even citizens of the European Union and that is not in our favor. It is also not in favor of the fact that the Secretary of State is a personality with immunity.
In my favor are two factors, the factor that in an international principle, I can not say that it is a UN-sanctioned law, but defamation is punished where it comes out. So in Albania it can be punished. Second, indeed the Secretary of State is undoubtedly a man of immunity, but slander fundamentally does not enter into official activities. This now remains at the discretion of the judge. How he can decide, I do not know. But the court proceedings will be uninterrupted. If these factors come up against me, after reviewing the answer, consult with a lawyer, I will see other spaces.
I will continue the judicial path and that of transparency, which has progressed. To date, there are over 45 publications in the US as a whole, and other countries, which have proven that there is no evidence, fact, document for that decision. Which is genuinely political. "The law was used for political purposes, based on the slander of George Soros and Edi Rama," said Berisha.