"The situation in the North is dangerous", the Minister of Defense: Serbia has determined what its red lines are
Politiko
2023-05-31 09:54:20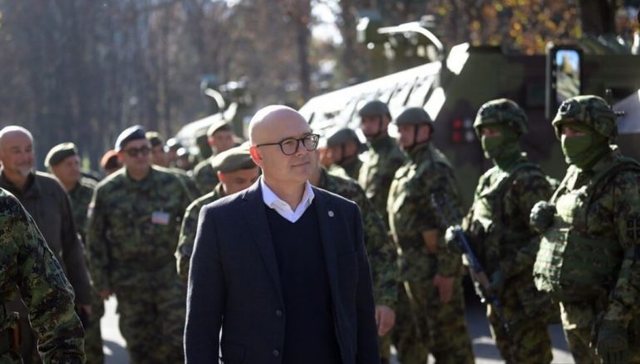 The Minister of Defense of Serbia, Milosh Vucevic, said on Wednesday that the security situation in the north of Kosovo is very dangerous.
Speaking for Radio-Television of Serbia, Vučević repeated the accusations of official Belgrade that the authorities in Kosovo are to blame for this situation. He described their decisions as "one-sided, illegal and illegitimate". Vucevic also said that the red lines have been defined.
"The army of Serbia is ready to perform any task, while, from the political point of view, Serbia has determined what the red lines are when it finds itself in a situation in which its vital national and state interests are threatened. We are talking about - God forbid - scenarios where someone kills Serbs," said Vucevic.
He said that the Armed Forces of Serbia will be in a high state of combat readiness until it is assessed that the national and state interests of Serbia are threatened and until there is a high security risk in Kosovo.
Earlier, the US Secretary of State, Antony Blinken, said that the Serbian President, Aleksandar Vucic, and the Government of Serbia should lower the security status of the Armed Forces, as well as call on the Kosovo Serbs to stop challenging KFOR and refrain from further violence.
From the clashes between protesters and KFOR soldiers, on Monday in Zveçan, 30 soldiers were injured, as well as dozens of protesters. Vucevic said that the authorities in Serbia are in contact with the commander of the NATO mission in Kosovo, KFOR.
"We have continuous communication, where we exchange information, but we also point out disagreements on some issues, because we are not satisfied with the actions of KFOR", said Vučevič.
He said that he believes that KFOR should remove the special units of the Kosovo Police from the north of Kosovo, inhabited by a majority of Serbs.
Vučević also assessed that this is a prerequisite for calming down the situation. Since May 26, tensions have increased in the north of Kosovo, since on that same day, the new leaders of Zveçan, Leposaviq and Zubin Potok - all Albanians - entered the municipal buildings under the escort of the Kosovo Police.
On May 29, 30 members of the NATO mission in Kosovo, KFOR, were injured during clashes with Serbian protesters in Zveçan. Previously, the Government of Kosovo has defended its decision to take the new mayors to the municipal buildings, while for the violence in Zveçan it has blamed Belgrade for "leading the extremist crowd"./REL