After the 'Mcgonigal' scandal, American officials 'turn their backs' on Rama. It returns only with photos from the UN courtyard
Politiko
2023-09-23 13:27:29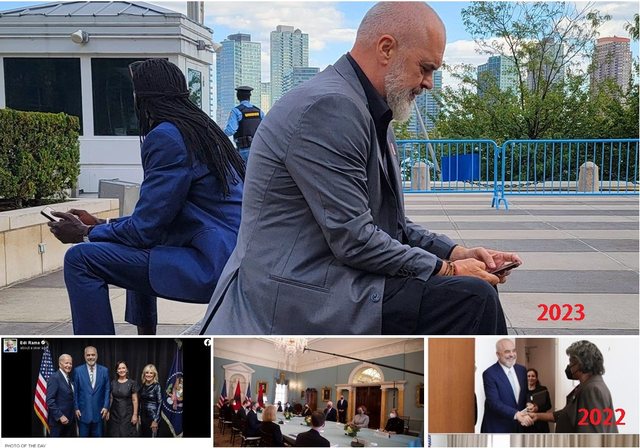 This year, Albania chaired the session of the United Nations Security Council. The session was held three days ago, while before the departure, Prime Minister Edi Rama himself was the one who posted a photo from the UN courtyard.
But, unlike last year, when Albania started its two-year mandate as a member of the Security Council, the prime minister's social network profiles did not boast of "Photo of the day", as he posed alongside high-ranking American officials.
Nëse kthehemi një vit pas, kujtojmë se Rama së bashku me të shoqen Linda, u takuan me presidentin e SHBA-së, Joe Biden dhe bashkëshorten e tij Zonjën e Parë, Jill Biden.
Fotografinë e postoi vetë kryeministri në Facebook, ku krahas fotos shkroi: Fotoja e ditës.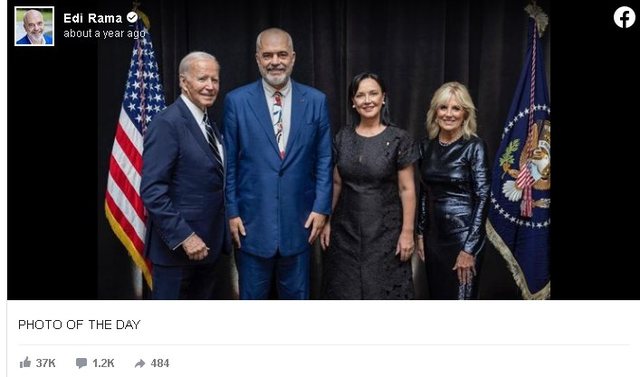 Në 15 shkurt të vitit të shkuar, kryeministri u takua edhe me sekretarin amerikan të Shtetit Antony Blinken në Uashington, pak javë pasi Shqipëria kishte nisur mandatin e saj dy vjeçar si anëtare e Këshillit të Sigurimit.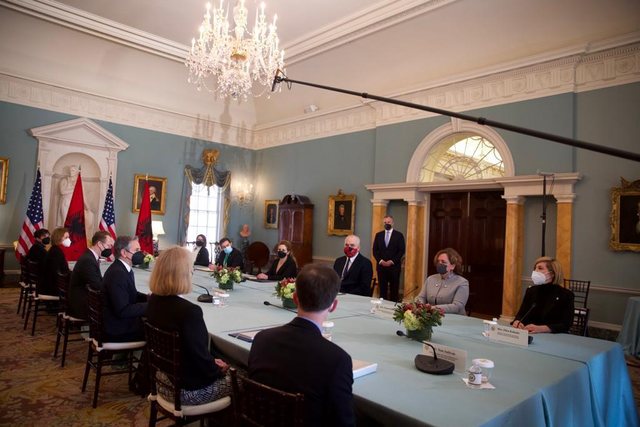 Ndërkohë, një ditë më parë ishte takuar dhe pozuar në Neë York edhe me Sekretarin e Përgjithshëm të OKB, António Guterres.
Pak muaj më vonë Rama zhvillon po ashtu edhe një takim me ambasadoren e SHBA-së në OKB, Linda Thomas Greenfield.
"New York, Kombet e Bashkuara – Me Linda Thomas Greenfield, Ambasadorja e SHBA-së në OKB, e cila shprehu konsideratat më të larta për performancën e Shqipërisë në Këshillin e Sigurimit", shkruante Rama.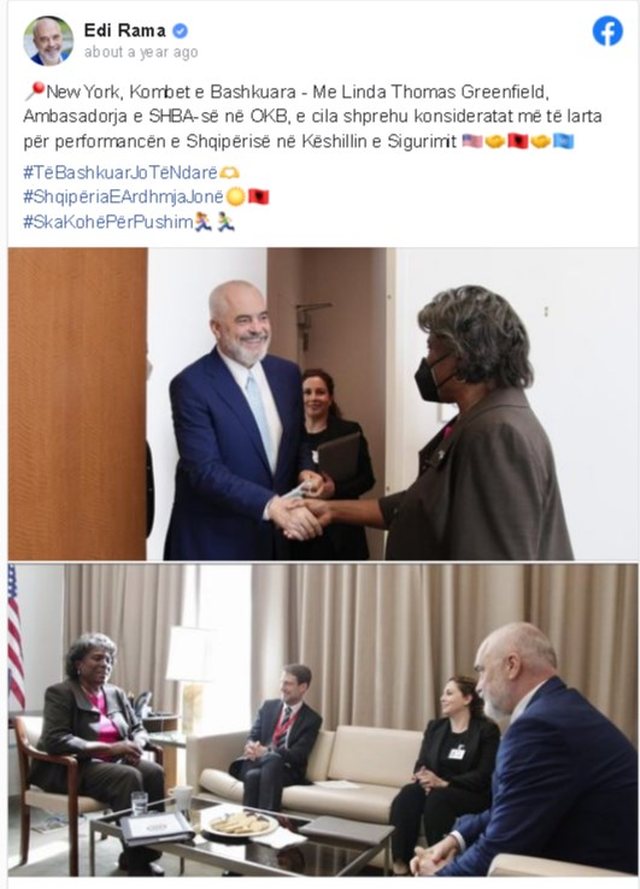 Ndërkohë, këtë vit, edhe pse Rama drejtoi mbledhjen e Këshillit të Sigurimit në emër të Shqipërisë dhe kishte në tavolinë sekretarin Blinken, ky i fundit u pa duke lënë sallën pa asnjë shtrëngim duarsh me liderin shqiptar dhe duke u kthyer vetëm me një foto mendueshëm nga oborri i OKB-së.
Arsyet e kësaj 'braktisjeje' duket se kanë një emërues të përbashkët, skandali 'McGonigal', ku ish agjenti i FBI dje pranoi fajësinë se kishte marrë 225,000 dollarë nga shqiptaro-amerikani, Agron Nezaj, i cili sipas dokumenteve në gjykatë, u bë informatori për hetimin e FBI-së lidhur me kontaktet dhe takimet e tij në Shqipëri.
In exchange for accepting a lighter sentence, the former agent has accepted all the charges against him in the Albanian file, thus sinking the Albanian prime minister, as he is mentioned 11 times in the file. These costs, it seems, have just started...